With only hours left in the trading day, the USD/CAD is hovering near the 1.2500 handle, down modestly from the weekly open (1.2536). From a fundamental standpoint, it's surprising that the past five sessions didn't bring fresh yearly lows.
Mid-April has been an interesting time in finance, highlighted by rising oil prices, potential military conflict, and the spike in cryptocurrencies. For the USD/CAD, there are several market drivers that point to bearish months ahead. Here's a quick look at the Loonie's key underpinnings:
WTI Pricing:

At press time (about 1:30 PM EST), June WTI crude oil futures are trading above $63.00. This represents a 6.67% gain on the week and preservation of this year's uptrend. 

War Footing:

The geopolitical story of the month has been increasing tensions between Russia, Ukraine, and the United States. In response to military buildups on the Ukraine/Russia border and the SolarWinds hack, POTUS Joe Biden chose to issue a fresh round of sanctions on Russia. While all-out war between the U.S. and Russia remains an outlier, any Russia/Ukraine conflict will drive global oil prices higher. 

Monetary Policy:

In last Sunday's

60 Minutes interview

, Fed Chairman Jerome Powell stated that the U.S. economy is at an "inflection point." Of course, he gave no concrete opinions as to when the Fed would begin walking back unlimited QE. For the USD, it looks like the 0% interest rates and massive Fed debt purchases may continue through 2022. 
If nothing else, these three issues point to higher oil prices and a dovish USD. In the event Canada makes progress on the COVID-19 front and experiences an economic surge, the USD/CAD is likely headed much lower.
USD/CAD Holds The Line At 1.2500
For the USD/CAD, the long and intermediate-term trends are down. As a result, this pair appears destined to revisit 2021's Low (1.2356).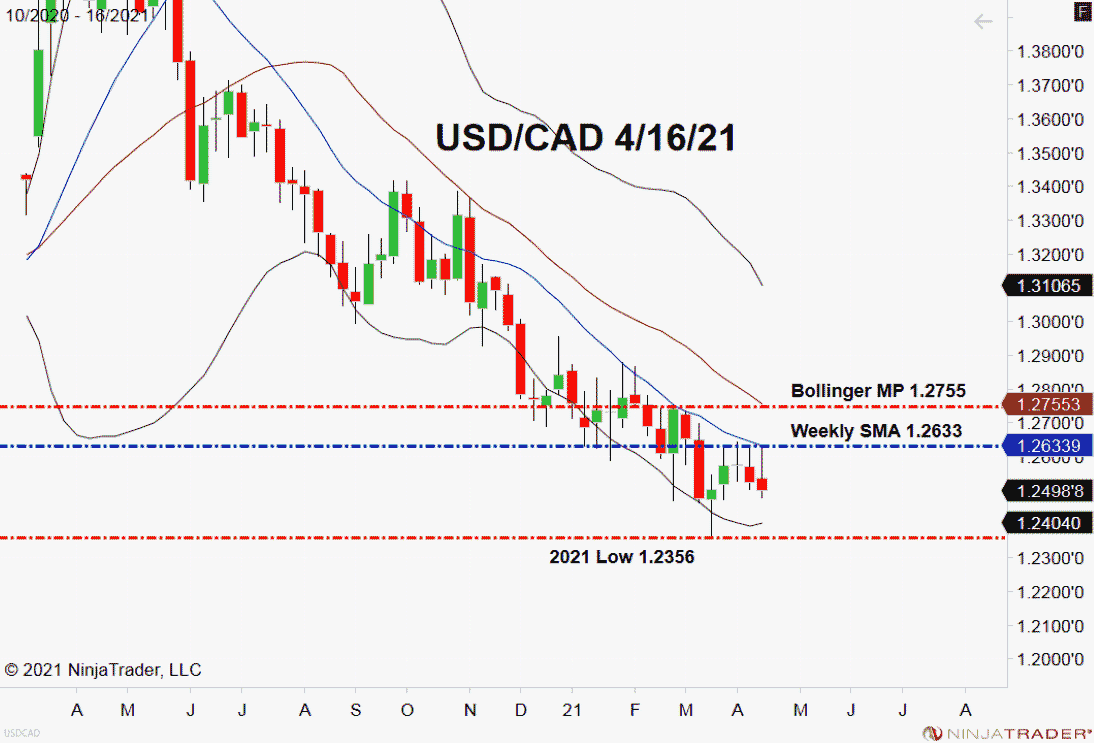 Overview: With the third full trading week of April ready to begin, a bearish bias is warranted for the USD/CAD. If rates close beneath 1.2500 today, a test of 1.2356 may come as early as next week.
A bit earlier, the Baker-Hughes Rig Count was released to the public. The number of U.S. oil rigs in operation grew to 344, up from 337 last Friday. While still historically low, today's rig count suggests growing optimism in the U.S. shale industry. Also, it shows a complete 180-degree shift in sentiment from that of April 2020.




Read More: 1.2500 In Play For USD/CAD, Baker-Hughes Rig Count Out