Stock markets cautious ahead of UK Covid lockdown exit plan – business live |
Let's dive into today's stock market moves: after all, the FTSE 100 is down 0.6% and Europe's Stoxx 600 index is down 0.7% despite hopes of economic recovery as vaccines work their magic. What's going on?
"Inflation expectations" is the answer given by many analysts. Stronger growth is good for the economy, but it could also prompt prices to rise if demand outstrips supply. That in turn could cause central banks to think about reducing the huge stimulus programmes they brought in to tackle the pandemic's economic crisis.
Bond markets are pricing in higher inflation (which eats into their returns, reducing their value). Bond yields, which move inversely to prices, have jumped during the first two months as inflation expectations have risen.
The pace of bond market moves during 2021 has taken many investors by surprise. Take the US 10-year Treasury, investors' benchmark: the yield has risen from well below 1% on new year's eve to just shy of 1.4% this morning.
Kit Juckes of Société Générale said the rise in yields could go one of two ways: it could make investors think a bit more carefully about pumping up riskier assets like stocks (and some stocks in particular) while not prompting major moves; or rising yields could signal that inflation is really coming, forcing the US Federal Reserve "to hurt the global economy to get it under control".



We're in the optimistic camp because we doubt we'll see enough underlying/core inflation to feed the bond sell-off for very long, and we think global economic recovery is a bigger long-term story than a rise in bond yields from very low, to merely low. That said, this is going to get prettty bumpy.
There is little doubt that prices of stocks and bonds have been pumped up by central bank stimulus. If investors fear that the Fed, the European Central Bank or others like the Bank of England are going to take away the punch bowl then the party could end very quickly – even if trillions of dollars, euros and pounds of stimulus are still in place.
Stephen Innes, a strategist at Axi, a trading platform, likened the mood to the "taper tantrum" of 2013, when concerns that the Federal Reserve could start to reduce its bond purchases triggered a bond selloff. He said:



The real danger in higher Treasury yields is not the Fed or inflation – it's the market's perception of a threat that is likely much greater than anything that might even actualize.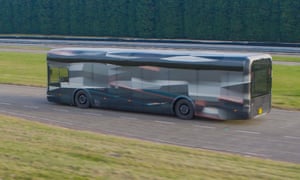 In case you missed it yesterday: Electric buses built by Arrival, the UK-based manufacturer, will be tested on British roads for the first time later this year in a trial with the transport company First Group.
The tests will begin in the autumn of this year, starting with four of the first production vehicles produced at Arrival's research and development facility in Banbury, Oxfordshire. Discussions are under way about further trials with other companies.
Arrival has burst onto the UK automotive scene, targeting urban vans and buses rather than cars. It hopes to use an unorthodox production technique to make battery electric vehicles more cheaply.
Arrival is also looking at an undisclosed number of new sites for factories within the UK, a signal of its intent to ramp up output as it prepares a reverse listing on the Nasdaq stock exchange in New York at a valuation of $5.4bn (£3.9bn). The company's main operations will remain in the UK.
You can read the full story here:
GSK and Sanofi to start phase 2 trial of coronavirus vaccine candidate
Sanofi and GlaxoSmithKline (GSK) have announced they will start phase 2 studies of their coronavirus vaccine candidate, after their efforts were delayed at the end of last year.
The French and British pharma companies previously found that the vaccine produced an "insufficient" response in over-50s, but on Monday they said in a statement that they were confident in its potential, and hoped to gain regulatory approval in the fourth quarter of 2021.
The phase 2 study will give the vaccine to 720 volunteers aged 18 and over. The companies hope to ascertain the best antigen dosage for large-scale phase 3 trials.
The trial will include equal numbers of adults 18 to 59 years and those 60 years and above.
While most of the British population will likely be vaccinated by the end of 2021, more vaccines will be required to protect most of the world's…


Read More: Stock markets cautious ahead of UK Covid lockdown exit plan – business live |